Roland Jaquarello
Theatre and Radio Director/Producer
Welcome to Roland Jaquarello's Website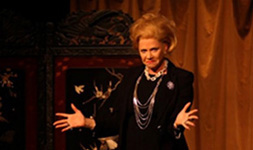 Roland has directed over 80 theatre productions.
His work includes periods as Assistant Director Royal Court Theatre, Director Abbey Theatre Dublin, Associate Director Welsh Drama Company, Artistic Director Green Fields and Far Away Theatre Company, Artistic Director Live Theatre Company Newcastle, Co- Artistic Director The Group, Artistic Director Lyric Theatre Belfast and Artistic Director Redgrave Theatre Farnham.
From 1996, Roland has also been working in radio, first as Senior Producer for Radio Drama at BBC Northern Ireland and afterwards as a freelance, predominantly working with the independent company Fiction Factory. He has produced/directed over 60 radio productions.
Roland has also worked at most London drama schools and taught in adult education.
I do hope you find something to interest to you in the various sections on the site. If you would like to contact Roland about theatre and radio production or about being taught or regarding any point of information, please do get in touch.
Current News
Roland is working on various writing and theatre projects.
Roland's memoir Memories Of Development: My Times In Irish Theatre And Broadcasting, can now be bought via Amazon or The Liffey Press at theliffeypress.com
Please click the link below: